Jon Ossoff's competitor is obsessed with defunding Planned Parenthood.
Democrat Jon Ossoff nearly won the US House seat vacated by Trump's Health and Human Services secretary, Tom Price, in what Mother Jones dubbed the "First Real Battle Between Millennials and Trump." Ossoff, however, fell about 2 points short of the 50 percent he needed in Tuesday's vote to avoid a runoff in the crowded Georgia race. That's a bummer for Democrats, as the runoff is expected to be a much harder battle for Ossoff in a district that was considered safely Republican. Even though Hillary Clinton nearly won the district in November, now the Republicans will unite behind a single candidate who picked up about 20 percent of the vote.
That candidate is Karen Handel, who once served as Georgia's secretary of state and chaired a county board of commissioners. She also ran unsuccessfully for governor in 2010 and US Senate in 2014. In a campaign blog post during her 2010 campaign, Handel lauded so-called "crisis pregnancy centers," which exist primarily to convince pregnant women not to get abortions, and pledged to eliminate grants to Planned Parenthood. But Georgia Right to Life questioned her anti-abortion credentials and refused to endorse Handel because she supported exceptions for rape, incest, and instances when the mother's life is in danger. "My husband Steve and I tried for nearly ten years to have children," Handel explained during the campaign. "It is the single greatest disappointment in my life, and I can say with certainty that no one in this race cherishes human life more than I do." In response, the president of Georgia Right to Life called her "infertile" and "barren."
Since that race, Handel has become a significant player in anti-abortion politics. In 2011, Handel joined breast cancer nonprofit Susan G. Komen Foundation as vice president for federal affairs less than a year before the group announced it would cancel hundreds of thousands of dollars worth of grants to Planned Parenthood. She is said to have pushed the conversation that ultimately led the organization to stop funding breast cancer screenings at Planned Parenthood clinics. The backlash against the Komen Foundation was swift—corporate sponsors expressed concern, there was a deluge of outrage on social media, and the employee overseeing the grants quit in protest. Handel resigned shortly after the controversy surfaced and the foundation quickly backed away from the move, but the damage had already been done. Handel went on to write a book called Planned Bullyhood, in which she characterizes Planned Parenthood as "a bunch of schoolyard thugs."
The race for Price's house seat may be Handel's opportunity to finally break into higher office. Her anti-abortion advocacy and the stain she left at the Komen Foundation will likely benefit her in this race, given the eagerness Republicans and Tom Price share for defunding Planning Parenthood. Republicans in both Washington and Georgia are expected to pour significant resources into the Georgia runoff in an effort to keep the seat in Republican control. "Tomorrow, we start the campaign anew," Handel said after the election results came in on Tuesday, according to the Atlanta Journal-Constitution. "Beating Ossoff and holding this seat is something that rises above any one person."
This article by Ashley Dejean appeared in Mother Jones on April 19, 2017.
Breaking Report! ShareBlue! Handel supported disenfranchisement of Black voters in Georgia. Truly evilwoman.http://shareblue.com/jon-ossoffs-gop-opponent-kare...

###

April 20, 2017
Addendum. Yes, Jon Ossoff won 48.5 % of the vote in the 6th Congressional District primary on Tuesday, April 18, still falling short of the 50% needed to win the seat. Now he faces Handel who won 18% of the primary vote for a run off on June 20th - Handel who is fiercely anti-abortion and anti-white.
But the 6th is a shifting Congressional District. Obama lost there by 12 points in 2012; Hillary lost by only 1.5 points in 2016.
Before Tuesday's primary, polls anticipating a head to head contest between Ossoff and Hendel already showed a race that is too close to call.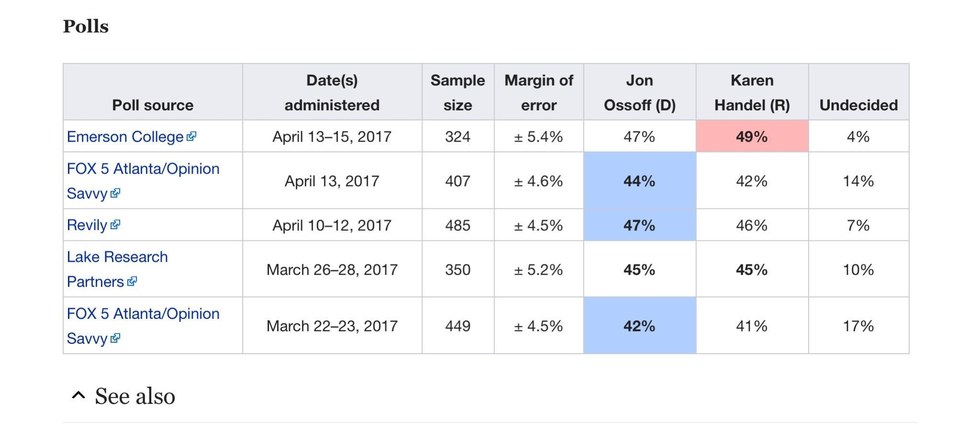 If you want to help Jon Ossoff "Make Trump Furious" and defeat Handel on the June 20th runoff for the 6th Congressional seat in GA, join his effort.
Make calls or work for the campaign if you can.
The Republicans already spent $5 million to stop Ossoff in the Primary. Handel will be well-funded. If you want, you can contribute much needed dollars to the Ossoff campaign here.